Finally! the day has come, when AlmaLinux stable version is ready to release. CloudLinux team has announced 30th March 2021 as the release date.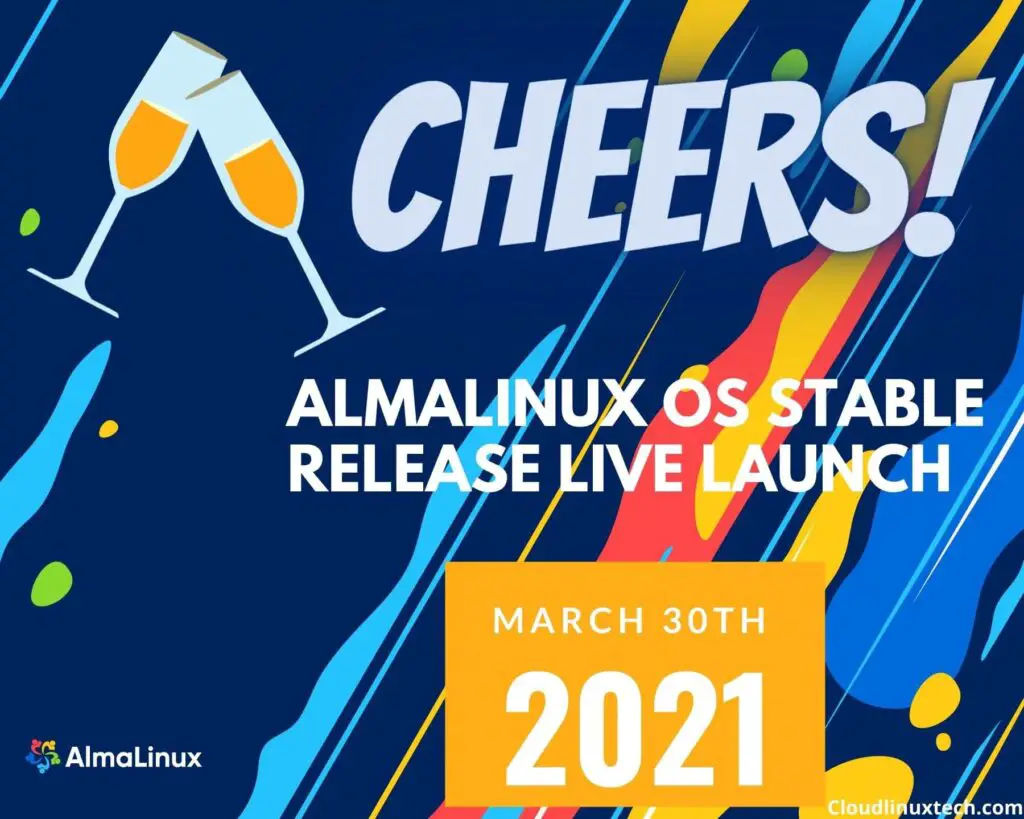 A live event will happen to make it a history Launch. Kudos! to the excellent team of CloudLinux and the open community to provide suggestions and feedback to make this happen. The team kept his promise of Project Lenix release on Q1-2021.
I have been a lover of CentOS as an IT professional, but the day RedHat CTO Chris announced that Centos 8 will be dead now. Everyone in the community was heartbroken including me. But the AlmaLinux team gave us a chance again to celebrate.
AlmaLinux the true CentOS replacement
I have installed and tested the beta version of AlmaLinux. It's almost the same as CentOS being a fork of RHEL 8. You will not find any difference between CentOS 8 And AlmaLinux Except brand and Logos. Even it's a bit more stable and beautiful, in my view.
" Final nail in Coffin of Dead CentOS 8, RIP CentOS. I will miss you"

I think AlmaLinux OS Purple Manul may emerge as a true replacement for CentOS 8 in future.
Highlights of the Launch Event
How to register for the Live launch of AlmaLinux
If you want to register for the Event and I think you must. Click on Register button, Scroll down page and fill basic information.
First Name
Last Name
Email Id
Accept Terms and Submit. Simple isn't it?. Once you will register, you will get a link an hour before the Live stream on March 30,2021.

Participate in #WeAreAlmaLinux and win a T-shirt
As per blog post on AlmaLinux site, the procedure is as follows –
Recording the video and sharing it will take 5 minutes tops. The instructions below are for using Zoom but you can use any other platform that can record videos with the background:
Download one of our awesome AlmaLinux OS wallpapers from here.
Go to Zoom and select the wallpaper as a Virtual Background.
Start a new conference as a host.
Switch on the recording.
Look at the camera and say, "We are AlmaLinux"
Finish the recording, save it, and share it on your Twitter, Facebook, Instagram, TikTok or LinkedIn. You must mention #WeAreAlmaLinux in your post so we can find your video and add it to our video 'time capsule' and add you to our t-shirt raffle.
Follow AlmaLinux OS on social media. We will contact you via SM channels if you win a t-shirt.
Check out this link for more info and video sample.
Thanks, Note!
Alma word is a Latin word, which means "soul". Big applause for the CloudLinux team to keep this soul alive.
Sincere thanks to CloudLinux CEO and management, who decided to invest in Lenix project.
I hope soon Lenix team will fulfil its second promise to provide a way to convert existing CentOS servers with absolutely zero downtime.
Waiting eagerly, when official script to migrate from CentOS 8 to AlmaLinux will be released.
Let's join this event and make it successful. It's my appeal to all FOSS lovers and who believe to keep the flag high of open community.