I decided to write this short article because I have faced this issue of low traffic after Ezoic integration and didn't find a proper article on it. I have lost my two days of ad-sense revenue due to this. If you are also seeing reduced traffic in Google analytics after integration with Ezoic. Then read this article, make sure your issue relates to mine.
What was the issue –
I have completed my 10k mark of visitors monthly recently and became eligible for the Ezoic program. A couple of days back, I decided to integrate with Ezoic to increase my revenue. But as soon as I integrated with Ezoic. I noticed that the Google Analytics real-time traffic got reduced.
** Pro Tip - If you have integrated Ezoic using Cloud flare. It take around 3-4 hours normally and upto 24 hours to get nameserver and DNS propagate worldwide. You may have error 502 meanwhile while browsing your site. 
Always open and check your website in Cognito or private window to test it real-time.
I have made these changes on weekend, so I thought it's normal. But when the same happened on Weekdays, I started investigating.
If you will see this image my traffic got reduced drastically and it was decreasing further day by day.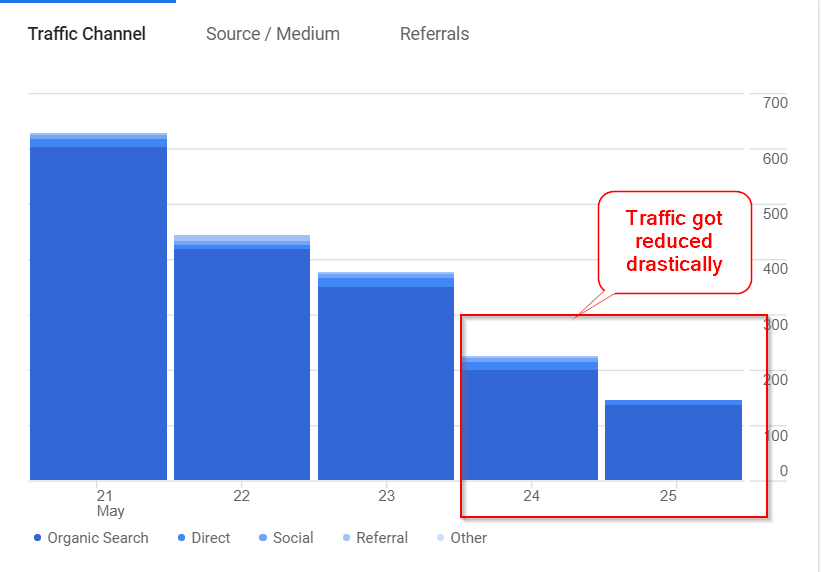 How to Investigate low traffic issue after Ezoic integration –
I hope, now problem statement is clear now. So I was not sure, what exactly may be the issue.
I tried searching on Ezoic Knowledge base and Google also. But unable to find it anything related to it.
So I decided to isolate the issue, Whether my traffic got reduced due to some Google penalty or technical glitch with Google analytics / Ezoic integration.
To figure out the issue, I decided to install the Jetpack plugin (free version) to my WordPress, which is capable to show real-time as well as historical traffic stats.
It shows the number of users, Top posts and pages, Search engine terms and even clicks on your website.
After plugin installation, I started monitoring and compared traffic of Google analytics with Jetpack site stats counters.
What I found users were reaching my site but it was not getting recorded to my Google analytics. For e.g., If 500 users were coming on my site, only 100 were showing in Google analytics.
If you will check this image, the Left side stats are from Jetpack and the right side is from Google Analytics data. You can easily see the difference.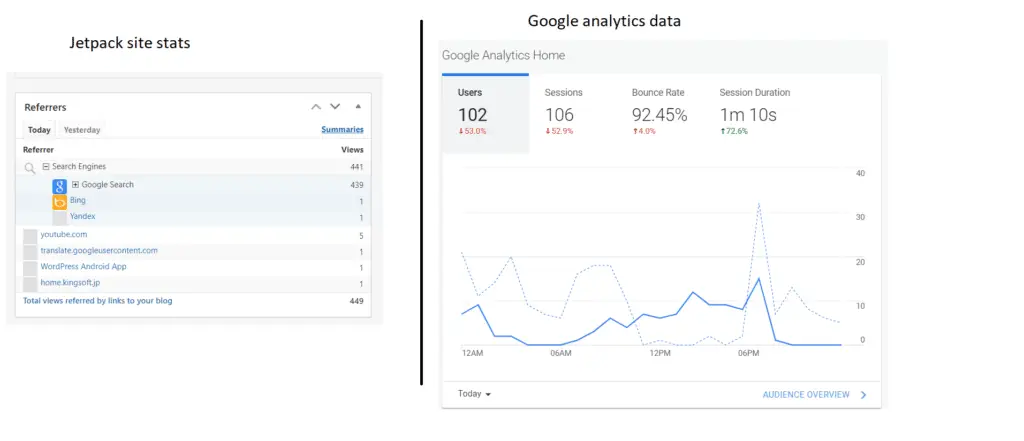 Now, problem statement was clear, something wrong either with Google analytics or Ezoic integration.
How i fixed this low traffic issue –
Now things were clear, it was no issue of low traffic. It was an issue either with Google analytics or Ezoic integration. So I decided to check on this.
First of all, I tweeted this issue to the Google analytics Twitter handle. And secondly, I decided to open a case with Ezoic support.
I gave a detailed explanation with a screenshot of traffic stats in Jetpack and Google analytics in the ticket raised for Ezoic. Raising a ticket for ezoic is really easy, Just click on Help centre on the ezoic home page – My tickets – and share your issue details.
And I really want to appreciate the quick response of Ezoic support. They confirmed that there was some technical glitch with the Google Analytics ID update with Ezoic.

Finally support added my Google analytics ID in Ezoic system asked me to report status after 20 mins.
As soon as 20 minutes completed, my traffic started resuming in Google Analytics. And I was a happy soul.
My issue got resolved and I thanked to support team for their quick support on this.

Summary –
There may be many reasons for the change in traffic, for example, Penalty from Google, weekend impact or some spammy link removed.
So first try to monitor and figure out the issue. Like I did by installing WordPress jetpack plugin.
Technical glitches and issues happen and who knows better than an IT guy. But I was really mesmerized by the kind of support Ezoic offered and resolve this issue.
I will keep writing, in case I will find any other issue, which is not listed on Google and can save someone's time and revenue.
Let me know, if you are already using Ezoic? have you faced any issue while integrating with Ezoic?
If you are still facing any issue with Ezoic integration, you can leave comment and I will try helping you.
Good Luck and happy learning!